The New York Magazine story "Why We Need Older Women in the Workplace" by Lisa Miller came across my Facebook feed on Thursday morning. I read it and I loved it.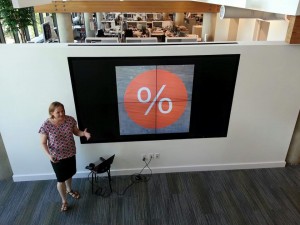 Just that morning I was scrambling to put together a presentation on the Equity by Design research for my office, so the topic of women in architecture was on my mind. What I found unique about Miller's piece was her insistence that a network of women of all ages strengthens the workplace, not just for those in practice today but for the future. I am so sick of women in the workplace being portrayed like another on-screen episode of Mean Girls or a Reality "Real [fill in the blank] of [any city]".
I saw in Miller's piece the workplace reality I long for now. It is also the reality I want to see in the future for aspiring architects to come, for my daughter, but also to ensure there is a place for me as I enter the thresholds of my 40's, 50's and 60's as a practicing architect.
"The better plan would be for a young woman to enter a workplace and, upon looking around, see lots and lots and lots of established, successful females from which to collate a vision of herself: the loner, the sycophant, the ass-kicker, the honest broker, the backstabber, the flirt, the wheedler, the warm hug, the cold fish, the brainiac, the yeller, the whisperer, the diplomat, the hoop-jumper, the straight-A student, the zealot, the do-gooder. Role models don't have to be superheroes, in other words, or even necessarily exemplary; there just have enough of them, and they have to have made it work"
-Lisa Miller in "Why We Need Older Women in the Workplace"
A profession like architecture cannot be book-taught and you need a tribe to survive and understand how design affects the lives of others. I have been fortunate to have a long list of amazing mentors—male and female—but I want to make special note of the women who have paved the way for all of us to see that it can work:
Sara Agrest AIA
Jennifer Beattie
Sho-Ping Chin FAIA
Ann Fienman
Diane Georgopulos FAIA
Stefanie Greenfield AIA
Patti Intrieri AIA
Deb Kunce FAIA
Beth Lacey AIA
Susan Maxman FAIA
Carole Olshavsky FAIA
Elizabeth Pacheco AIA
Elizabeth Padjen FAIA
Coco Raynes
Elizabeth Chu Richter FAIA
Kate Schwennsen FAIA
Leslie Saul AIA
Heather Taylor AIA
Carole Wedge FAIA
Jane Weinzapfel FAIA
Laura Wernick FAIA
Amy Yurko AIA
Disclaimer: Just because you are on this list does not mean I think you are old, but rather you have paved the way and reinforced that a career in architecture can survive. And I have been mentored by some amazing clients as well (whom I will not name to protect their innocence.)
This is why the work of Equity by Design and 2015 AIA President Elizabeth Chu Richter FAIA on reengaging women who have left the profession is so important. We need women of all generations in the workplace, for role models but also for their design diversity and knowledge.
Share: